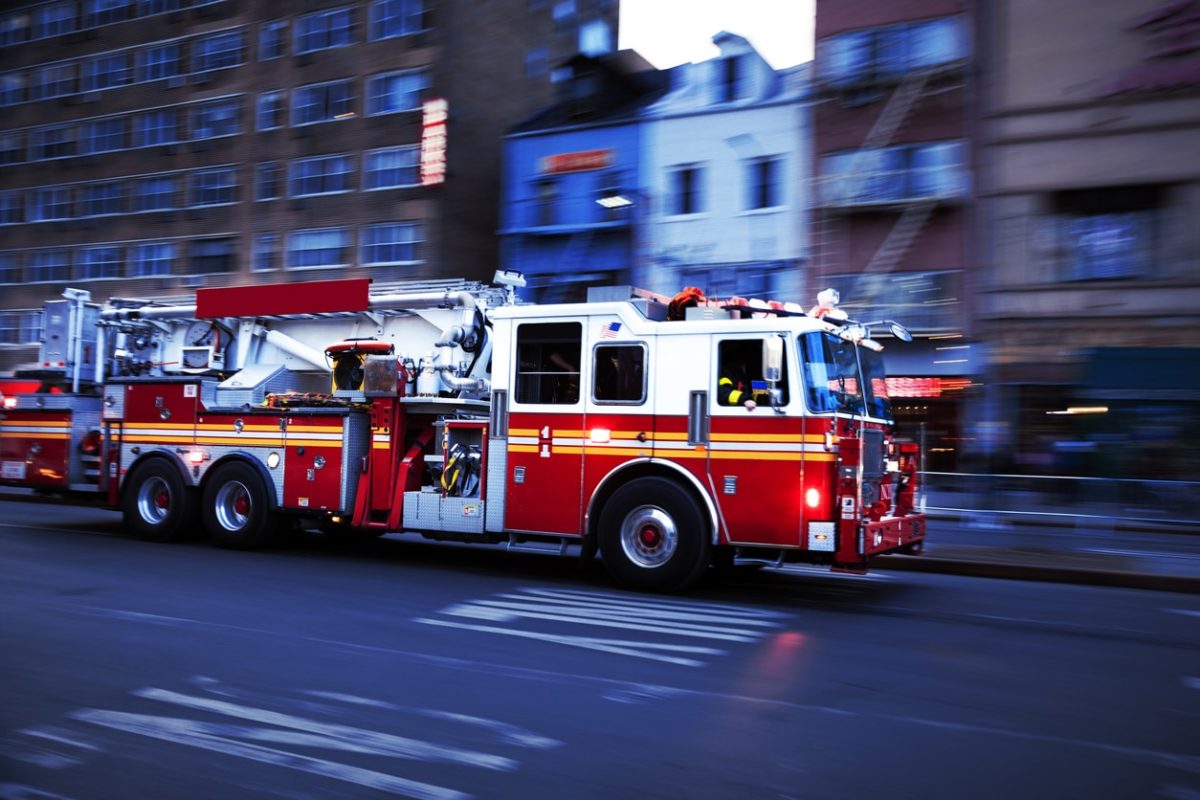 There is a large number of in-service vehicles moving about on the roads at any time. Are they all responding in a safe manner? Crashes involving ambulances and fire trucks are far too common. 
For first responders, it is crucial to get to the scene in a timely manner. However, unfortunately cases arise of these departments neglecting personal and vehicular safety in order to do so. One emergency should not be an excuse for another. Here are some steps to implement in an emergency department in order to reduce the risk of accidents or other incidents on the road while traveling to the scene.
Leave the Station in a Safe Manner
Mount the apparatus quickly, be seated and belted before the apparatus moves. Unbelted firefighters become projectiles themselves, endangering belted firefighters in the process. 
Know Your Route 
Blasting down the road not knowing where you are going is an accident waiting to happen. Familiarize yourself with your route before you leave the station. Consider using a GPS in the rig.
Using Warning Devices 
Always use all required warning devices on emergency runs, it's the law. If it is not a true emergency, respond as such. 911 tapes will definitively prove that the first-arriving units advised all others to disregard. 
Speed Limits & Stops
Never exceed your department's maximum speed limit policy. Every seasoned veteran knows it normally does not really make that much difference in your arrival time. Know your policy and stay true to it. It is in place for a reason. Take note of significantly lower speeds as dictated by traffic, weather, darkness or a bad roadway.
Always make a complete stop at all red lights and stop signs. There is no valid excuse for not doing this every time! 
Don't Intimidate Other Drivers Out of Your Way
Never attempt to plow traffic with your air-horns. Not only does this type of driving project an extremely unprofessional image, but it is also irresponsible and dangerous. Drive defensively, yet professionally at reasonable speeds.
Other Quick Tips 
Emergency responders can also improve roadway operations safety by:
Complying with and wearing the proper ANSI certified reflective vests when operating in the roadway

Complying with NFPA 1901: Standard for Automotive Fire Apparatus; and the Triple K ambulance standard for ambulance markings

Ensuring that all staff take traffic incident management (TIM) training

Establishing better, stronger communication with all roadway worker elements (i.e., law enforcement, fire, EMS, towing professionals, construction workers)

Using cones, signs and lane blocking techniques to protect your scenes, your patients and your staff

Treating roadway scenes like radiation incidents (time, distance, shielding); limit your time on the roadway, shield yourself from the traffic and increase the distance between you and traffic
It is always better to be safe than sorry. Implement these tips now for safer travels. 
About Provident Insurance Programs
With roots dating back to 1902, Provident Insurance Programs is a program administrator that serves paid and volunteer firefighters in addition to emergency medical responders with numerous custom-tailored insurance programs. We've also extended our expertise and experience to offer benefit plans and coverages to participant groups as well as Transportation Benefits. We are committed to continuing to provide superior customer service, and would be happy to speak with you to provide further information. Give us a call today at (855) 201-8880 to speak with one of our representatives.